What to expect from Salesforce Code Builder…?
In these COVID times, seems keeping ANYWHERE into consideration is the best thing businesses can do. Salesforce's recent releases and roadmap are well aligned on the ANYWHERE theme, with recently introduced Salesforce Anywhere, upcoming DevOps Center, or Code Builder. In this post, we will explore what is publicly available about Code Builder, and based on that what to expect from the same.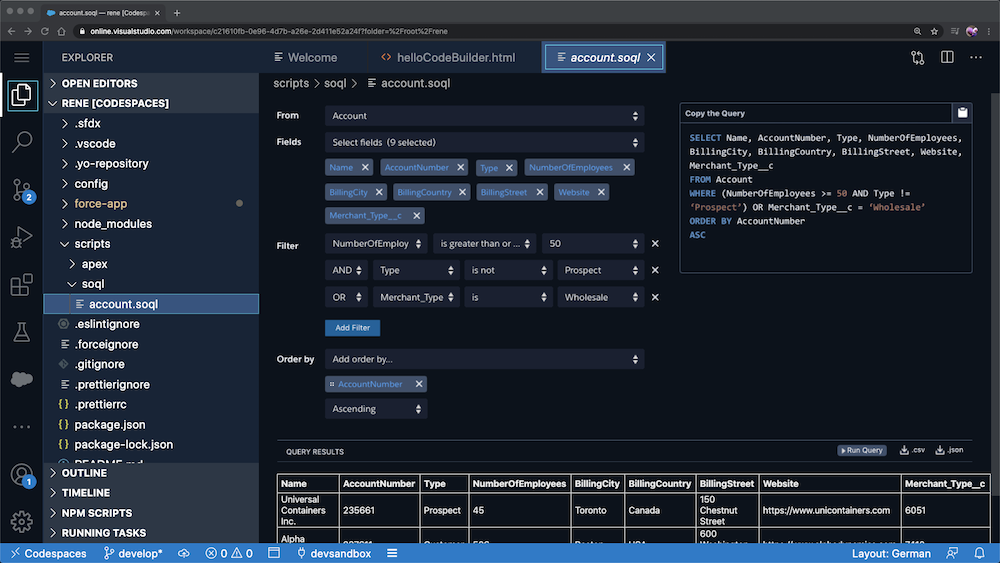 Code Builder: Overview
A web-based developer environment (IDE).

Yet another Developer Console? Not really.

Based on Microsoft's Visual Studio Codespaces.

Visual Studio Codespaces is currently in public PREVIEW.

It's a virtual machine-based setup, which is offering a fully-featured VS Code over a Web browser. The ANYWHERE factor.
It will be ready for showtime without requiring a lot of configuration, i.e.

All the required VS Code extensions for Salesforce development will be pre-installed/configured. It could come pre-packaged with other extensions for "Linting" etc, as LWC is now at par with usual Javascript development standards.
The virtual machine will have the correct version of Java and other runtimes pre-installed 🙂
It will be authenticated with your current Salesforce org.
It will remember your preferences like color themes etc, just like the desktop VS Code.
Again the ANYWHERE factor, if you are a consultant log into any org from anywhere, and you have the right and required Salesforce developer tooling + IDE available.

Code Builder is in **pilot** for select customers only, which started in JULY'20 and is closed as of now. Pilot nominations might open in the fall again, keep in touch with your AE(Account Executives) for the same. This Dreamforce, a BETA might be announced.
Code Builder – Why?
If you are really doing well with your desktop-based VS Code setup, why will I be excited about something running in the web browser? Very honestly, my background was originally in Microsoft with Visual C++, Visual Basic, to Java/JEE, and I loved the Visual Studio and Eclipse as IDE. I never liked working in a browser-based IDE (a personal taste, or preference, no offense anyone). I always felt that my chrome is already jam-packed with many open tabs, and is a huge memory hog. Why run something quite resource hungry like a WEB IDE again on the browser to make your life more miserable and lost in many tabs. You all must have felt what happens after keeping Dev Console open for some time, or when you probably load a few debug logs, or fire large SOQLs, or open a lot of files.
My head was quite puzzled around these questions, and I even tried signing up for a CodeSpaces trial account and configured a virtual machine and VS Code with Salesforce extension out of huge curiosity.
I configured the Virtual machine in CodeSpaces, i.e. Installed SFDX CLI and all the required VS Code Extensions and other dependencies. To make myself comfortable and feel like the desktop VS Code. Following screencast GIF shows the launch speed of the web IDE, it's usable almost instantly, and you can quickly open files, and change themes, I didn't felt a LAG which I was expecting. This looks impressive and makes comfortable and excited about Code Builder, I don't want another Dev Console or anything like that for sure. I am quite impressed with the way Microsoft managed to give the same VS Code experience, with such an amazing performance over a web browser.
I was still wondering Why Code Builder, and luckily stumbled upon this podcast by Josh Birk and Claire Bianchi. Claire Bianchi, Director of Product Management for developer tools/experience at Salesforce and Josh Birk is a developer evangelist at Salesforce. Claire is having an amazing background with experience building tooling like Pipelines in Bitbucket etc. This podcast answers many WHYs around Code Builder, i.e.
Code Builder is like any other builder like App Builder, Schema Builder, Experience/Community Builder, etc. These all builders could be launched from ANYWHERE, i.e. your org and web browser. Code Builder should be the same for Salesforce developers.
Salesforce Admins/Developers use a lot of random tooling, i.e. Dev Console, Workbench, lot of chrome extensions, etc, etc to get the job done. There is no unified IDE that gets a similar developer experience on the desktop and on the web. Code Builder aims to unify all of these random toolings, into one unified single swiss army knife for Salesforce Developers/Admins. Or as Clarie said:

Our vision is unification of those developer tools. So you'll have a web-based tool and a desk-based tool, both of those tools will do the exact same sets of things.

On that note, SOQL Builder is coming to VS Code soon, which will be a solid tool to build SOQL queries.

In case someone quickly needs to write a simple Apex Class, or execute some SOQL they use Dev Console, but it would be quite amazing to have a desktop-like Salesforce + VS Code combo available in a web browser, which just comes pre-packed with all the required extension, current org authenticated, and GIT enabled. This will not just empower seasoned developers, but also admins who are looking to do some trivial to serious stuff on the development side.
The ability to connect to a REPO will be a huge plus, especially from the web.
Have CI/CD integrated and simplified, with possibilities of Code Builder getting integrated with DevOps center?
Those who keep different monitors, and tab always open for documentation, there are plans to integrate the same in VS Code.
If you love Dev Console, it is not getting any new features, and will probably retire gradually. Thank god!!
Have VS Code amazing features like Intellisense in Web as well.
Code Builder: Pricing..?
Visual Studio Code Spaces is not FREE for sure, check the pricing page or Azure pricing calculator. The pricing is calculated based on Active and Total hours.
Active Hours, which represents the amount of time that a user is connected to the environment from the browser or a client tool. Environments enter a sleep state upon disconnection.
Total Hours, which represents the total lifetime of the environment, from when its created, to when its deleted. Total hours should be at least equal to or greater than the number of Active hours
Active hours is the prime contributor to the cost here.
Following screenshot has some more details from the pricing page.
Be mindful about your coffee/loo/cigarette/water-cooler breaks, they might cost you or your employer a lot more, in case you forget to disconnect code spaces 😉
Will CodeBuilder be a paid offering?
I am not sure about that yet, but seeing Developer Console and other VS Code extensions we never paid as Salesforce Developers for the basics. I'm hoping Salesforce will workout something with Microsoft, but HOW, I am not sure as of now. There are approx 6 Million Salesforce Developers worldwide, having a Code Spaces environment for all of them is quite a big deal 🙂
If someone from Salesforce can shed some light here, it will help cool down a lot of curiosity around Code Builder.
References